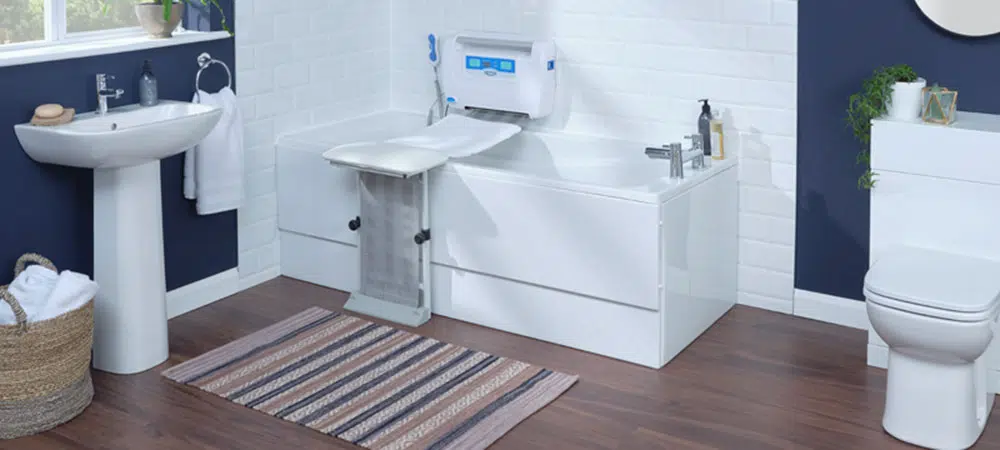 Easy2Bathe bath aid for the elderly helps to safely raise and lower seniors in and out of the bath.
As the world's slimmest bath lift, it has been specially designed to aid and assist the elderly or disabled with full independent bathing confidence.
Many other bath aids don't enable you to have a full depth bath and if you have mobility issues this may prevent you from doing so.
Our innovative mobility bathing aid enables you to transform your current bath into a hazard free haven. The unit simply fits on the wall next to the bath, meaning there is no requirement for plumbing or building.
Unlike many conventional bathing mobility products available today (which can be extremely expensive and involve changing your bathroom) Easy2Bathe is a slimline, cost-effective way to enjoy bath time independence once again.
The easy to use bath lift gently and safely lowers you into a full deep bath so there is no sitting around waiting for a bath to fill around you like you would have to with a walk in bath. Once you are finished, simply raise yourself out again all at the push of a button. No sitting around waiting for the bath to empty, getting cold!
Mobility Disabled Bathing Aid From Easy2Bathe
Our mobility bath lift is fitted to your existing bath tub (in around an hour) and is easily retracted to enable others to use the bath.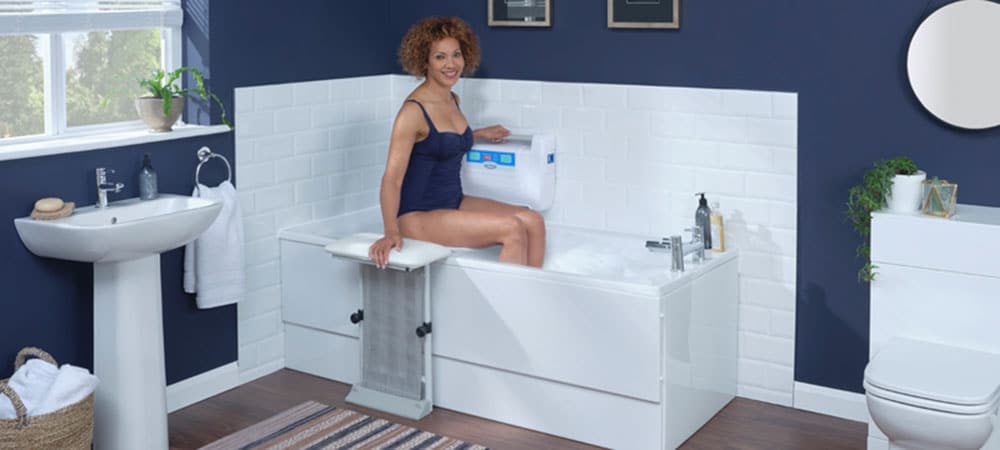 Why Choose Easy2Bathe?
Slim line design
Combined transfer and drying seat
In-built digital temperature display
Easy to use hand set
User weight of up to 20 stone
Hand rail which allows safe support
Usually installed and working in around an hour
Rechargeable battery- 20 baths between charges
Full manufacturers warranty
Who Can Benefit?
The Easy2Bathe is specifically designed to benefit individuals who have limited mobility. The bathing aid can also help those who struggle standing due to weakness in their legs or back, as well as those who suffer from issues with their balance. The Easy2Bathe will support any individual up to the weight of 20 stone.
Keep your independence
Bath time should be a pleasurable experience that you can enjoy in privacy and comfort. The Easy2Bathe bath chair lift has been designed to provide the independence that you deserve when taking a bath. Not only can a bath lift help you to remain independent, but it will also make your loved ones lives a little easier too.
If you're looking for a bath lift price, take the next steps with bathroom safety and get a bath lift price to consider in your own time...